Being the leading destination for tourists when coming to Sai Gon, Ben Thanh market has enough food style in the region. There a number of vendors and food stalls in the market food section that offers guests dishes freshly made to the order. From little snacks to a full dish, everything is sold in the counters with glass cabinets, quite clean.
The food's price is said to be higher than the outside. However, "all in one" and the location in the center is the plus of Ben Thanh Market. Some of the most famous dishes are in this market, many people are looking for bánh bèo – Vietnamese Savory Steamed Rice Cake, bánh lọc miền Trung – chewy tapioca dumpling, chè – sweet gruel, bún mắm Bạc Liêu – Bac Lieu noodles.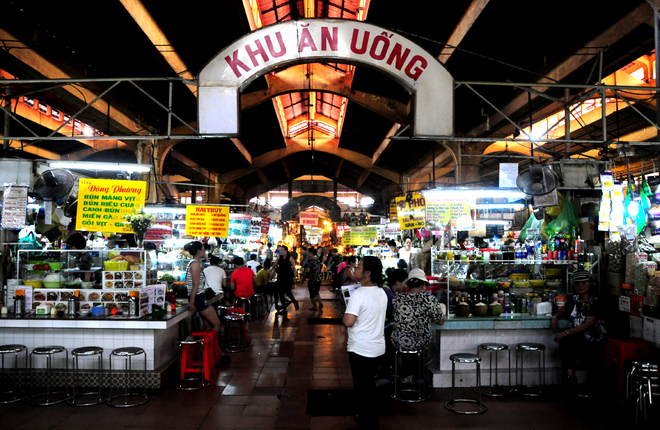 In the evening, while all stalls inside the market are closed, sidewalk restaurants around the market open and make it extraordinary lively area. One of the most recommended foods by tourists is deep fried whole fish, so remember to try it at least once when you dine here. Besides, one can also taste seafood and enjoy a cool beer at a cheap price (only $1-2 for a beer only). One advice for tourists is not sitting deep into the crowded food tent to avoid the heat.
Curious about what the locals eat, wear or use daily? Just come here and find out the answer. From clothing, shoes, bags, jewelry to kitchenware, grocery, sweets, and great Vietnamese coffee… everything that Saigonese need for their daily life can be found here. Taking a look at things for sale here, seeing how people make transactions or which kind of goods is purchased mostly by the locals, one can learn much about the local life and get useful experience for shopping in Vietnam also. For the ones who are keen on shopping, here is exactly the place you are looking for.
Besides goods for daily use, here tourists can find a variety of eye-catching local handicrafts, souvenirs. But remember, always bargain before buying anything.